Get new posts by email. About once every three weeks. Unsubscribe anytime.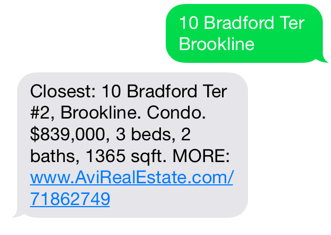 UPDATE 6/30/2015: Now supporting all towns in Massachusetts, except Berkshire County.
Have you ever walked by a real estate sign and wondered what they're asking for the property? I've created a new mobile tool that I hope you will find helpful. Text an address in the Boston area Massachusetts to (617) 898-0388, as in the following example: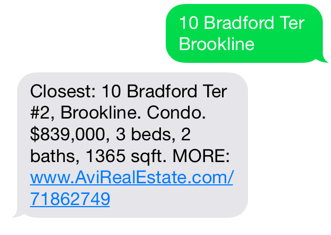 Within seconds you'll receive an automated reply with the basic details and a link to more information on my website. So now, when you walk by a real estate sign and are curious about the details, you don't have to download any app or memorize the address to look up later.
Add it to your phonebook so that you'll have it next time you are curious about a property with a real estate sign out front.
A few notes:
Currently supporting all towns in Massachusetts (except Berkshire county). these towns: Boston, Brookline, Belmont, Newton, Cambridge, Somerville, and Watertown.
On Sprint there is a delay up to 15 minutes. (No issues reported for AT&T and Verizon.)
There is no charge from me. Standard text messaging rates from your carrier may apply.
Do you have any questions or comments on this tool? Please let me know. And as always, if you or someone you know is considering buying or selling a home, please reach out to me and I'll be happy to help!
---
Questions? Email me and let's set up a time to discuss your real estate needs.
AVI KAUFMAN is a top broker who lives in Brookline, Massachusetts and works there and surrounding communities, assisting buyers and sellers of residential property. He is building a unique practice dedicated to serving the best interest of his clients - see how he's different.
---
Liked this post? Please share:

Check out these other posts