Get new posts by email. About once every month or so. Unsubscribe anytime.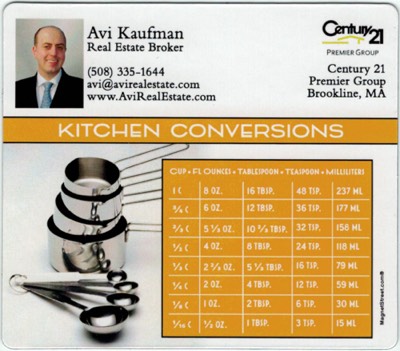 I've sent out new kitchen magnets to help all you cooks with kitchen measurement conversions. If you didn't receive one, it means I probably don't have your address. Please send me an email (avi@avirealestate.com) with your address and I'll send you one of the new ones right away! Above is an image of the new magnet.
I'm always flattered and surprised when I'm at someone's house and see one of my original magnets from 2004 still on their refrigerator. In case you're curious, here is what the old one looked like:
After eleven years, it was time for a new design and a new picture.
Liked this post? Please share:

---
Questions? Email me and let's set up a time to discuss your real estate needs.
AVI KAUFMAN is a top broker who lives in Brookline, Massachusetts and works there and surrounding communities, assisting buyers and sellers of residential property. He is building a unique practice dedicated to serving the best interest of his clients - see how he's different.
---
Check out these other posts