Get new posts by email. About once every month or so. Unsubscribe anytime.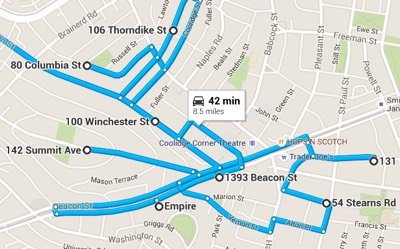 What are "broker tours"?
When a home is first listed for sale, the listing agent may hold a special open house during the week specifically for real estate agents. Known as "broker tours," these are great opportunities for buyer agents to preview the newest listings and get a more tangible sense of each property than is possible with just the listing sheets.
Each town has its own traditions for holding broker tours. In Brookline, for example, they are held mid-day on Wednesdays, and in Newton on Thursdays. The image above is my route last week.
(Click here to read an ongoing recap of the broker tours I visit.)
Why are they so important?
In a hot market, a buyer with a savvy agent can use these to gain an edge. Frequently the weekend open house is a property's first exposure to the public, and it is flooded with potential buyers, resulting in a bidding war. If, however, your agent checked it out at the broker tour on Wednesday, they can give you a heads up, and in some cases even arrange for you to visit it prior to the open house and make an offer. (If you have a flexible schedule, sometimes you can even accompany your agent on the broker tour.)
What about from the seller's perspective? Not every listing agent will host a broker tour for every property, and in most cases I think that is a mistake. A successful broker tour exposes your property to a multitude of real estate agents and enables them to speak intelligently about it to their clients. It gives your property a boost in word-of-mouth publicity, which in turn helps you sell faster and for the best price.
How to host a successful tour?
In busy periods, there can be dozens of simultaneous broker tours all competing for attention. Today there were over twenty just in Brookline! If you are the seller, here are my top three tips for making sure your broker tour stands out:
Serve refreshments. It's the house with sushi and cookies that attracts the most traffic, and that gets agents to linger.
Choose a reasonable time frame, usually about 1 1/2 hours. If there are a dozen tours all scheduled from 12-1pm, agents will need to skip some. Make it easy for them to attend!
List it in the MLS (Multiple Listing Service) a day prior. We want to give the other agents time to plan. Waiting until that morning can mean that it gets missed.
Next steps
If you or someone you know is considering selling their home or buying a new one, please give me a call. I'd be happy to talk to you about your plan and help you out. Also, please feel free to share this post on your social media.
(Click here to read an ongoing recap of the broker tours I visit.)
Liked this post? Please share:

---
Questions? Email me and let's set up a time to discuss your real estate needs.
AVI KAUFMAN is a top broker who lives in Brookline, Massachusetts and works there and surrounding communities, assisting buyers and sellers of residential property. He is building a unique practice dedicated to serving the best interest of his clients - see how he's different.
---
Check out these other posts