Get new posts by email. About once every month or so. Unsubscribe anytime.
Which months have the most properties listed for sale?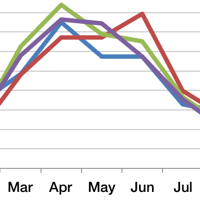 You probably know or could guess that more properties are listed for sale in the spring than any other time of year. Pragmatically, however, people have to move for various reasons throughout the year, even in the middle of winter. So what is the actual distribution of new listings throughout the year?
To answer this question, I looked at the listing dates for the 2,907 single-family and condominium homes that sold in the past two years in Brookline and Cambridge. A few observations:
Spring is clearly the busiest season:
In Brookline, the hottest three months are March-May, with 44% of listings.
In Cambridge, the hottest three months are April-June, with 42% of listings.
After a significant slowdown in July-August, there's a bump of activity in early fall.
There is activity even in the slowest months: 11% listed from December-February
Sold properties by month listed (percent)
What does that look like in absolute numbers? The following graphs show the count by month with two years of data for Cambridge and Brookline, broken down by single-family and condominium homes.
Cambridge sold properties by month listed, July 2013 - July 2015:
Brookline sold properties by month listed, July 2013 - July 2015:
What does this mean for you? If you're a buyer, there is more inventory on the market in the spring, but there is also more competition from other buyers. The average length of time a property takes to go off-market is at its lowest in the spring, and highest in the fall. This is a rough proxy for the intensity of the competition.
As a seller, the best time to list can depend on the location and condition of your property, as well as your goals. In some cases, I might advise you to wait a month or two to catch the market momentum, and in other cases you should try to lead the market and list as soon as you can be ready.
As a buyer or seller, it takes time, often months, to get everything ready for a transaction that meets your goals, so I'd recommend getting the ball rolling early. Please contact me if you'd like to discuss what that involves for your situation.
Average days from list to off-market, by list month, two years July 2013 - July 2015:
Note: Days on Market is a conservative measure, because often brokers leave properties "on market" even after an offer is accepted in order to accept contingency offers. Typically in this market agents wait to mark the property as "under agreement" until the buyer's contingencies have been met and there is a signed purchase and sale agreement, usually 14-21 days after the accepted offer.
Liked this post? Please share:

---
Questions? Email me and let's set up a time to discuss your real estate needs.
AVI KAUFMAN is a top broker who lives in Brookline, Massachusetts and works there and surrounding communities, assisting buyers and sellers of residential property. He is building a unique practice dedicated to serving the best interest of his clients - see how he's different.
---
Check out these other posts