Get new posts by email. About once every month or so. Unsubscribe anytime.
2017 in Review: Key insights to understand this market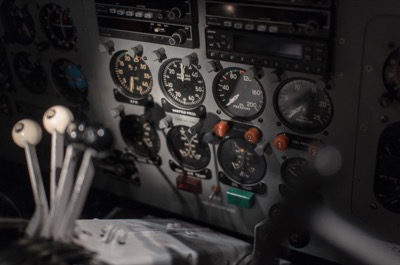 As you plan for the coming year, it may be helpful to review what transpired in 2017 and what it means for our real estate market. Below are three keys to current market dynamics. This analysis is based on 2,272 condos and single-family homes the MLS reported sold in Brookline, Newton, and Cambridge.
1. Supply is seasonal
Most homes were listed in the spring, followed by a quieter period in the middle of the summer, and then a bump of activity in September. Last year, the spring started earlier than usual, in February. It can be frustrating to be a buyer this time of year when the already limited inventory is even lower. Hang on though, more is on the way soon!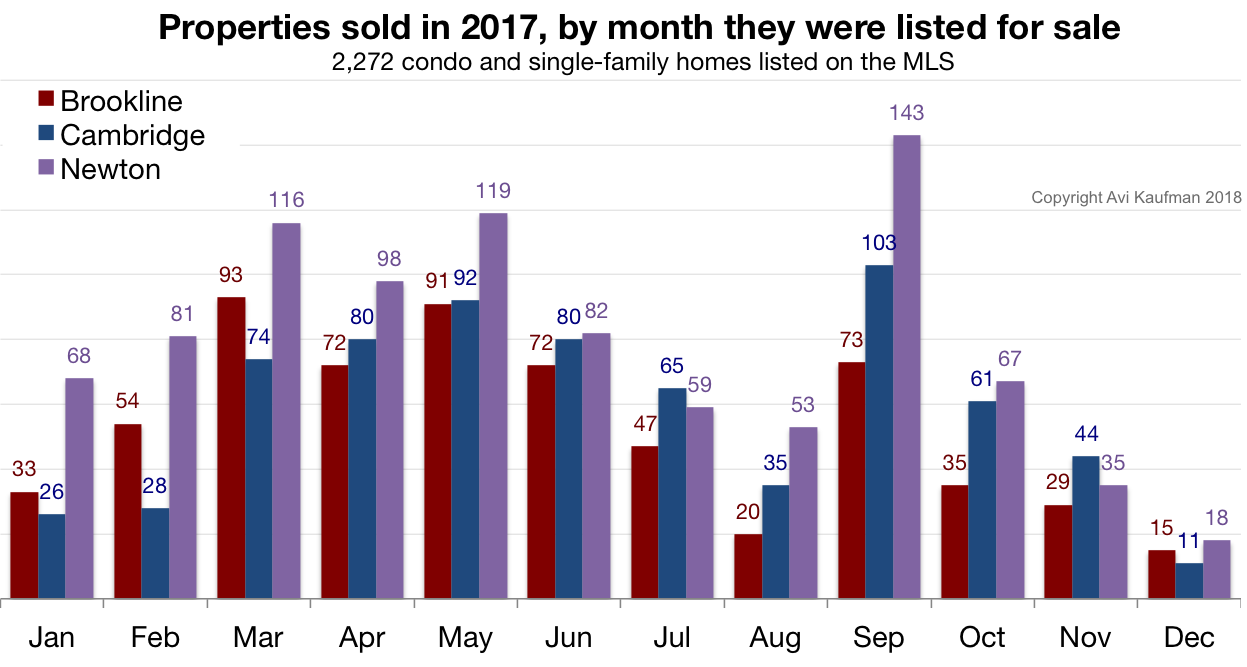 2. Not every segment is the same
If you listen to the word on the street, it can feel as if every property has multiple bids and sells within minutes - but that's not actually the case. Certainly parts of the market are hot, sellers' markets. For example, three to four bedrooms in the Coolidge Corner, Brookline Village, and Cambridgeport neighborhoods are highly sought after. (Really almost anything in Cambridgeport.) But not every property is hot enough to trigger a bidding war.
This graph shows that in some price segments, the sale price is, on average, actually lower than the asking price. This makes sense - there are fewer buyers who can qualify in the upper price segments, and less competition translates into more power for the buyer.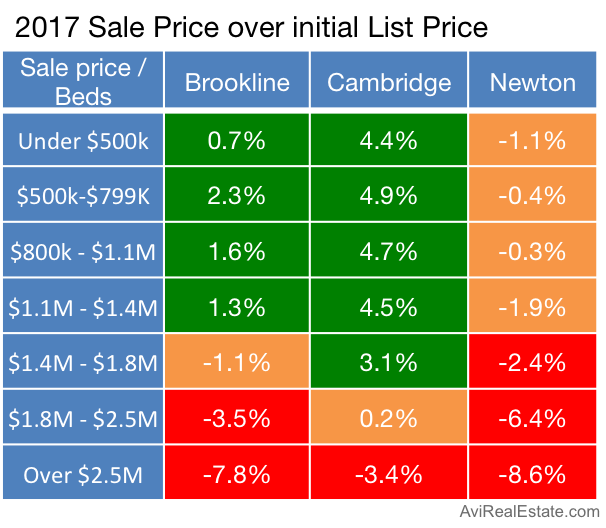 This graph shows that the majority of properties did sell quickly, and a smaller number lingered.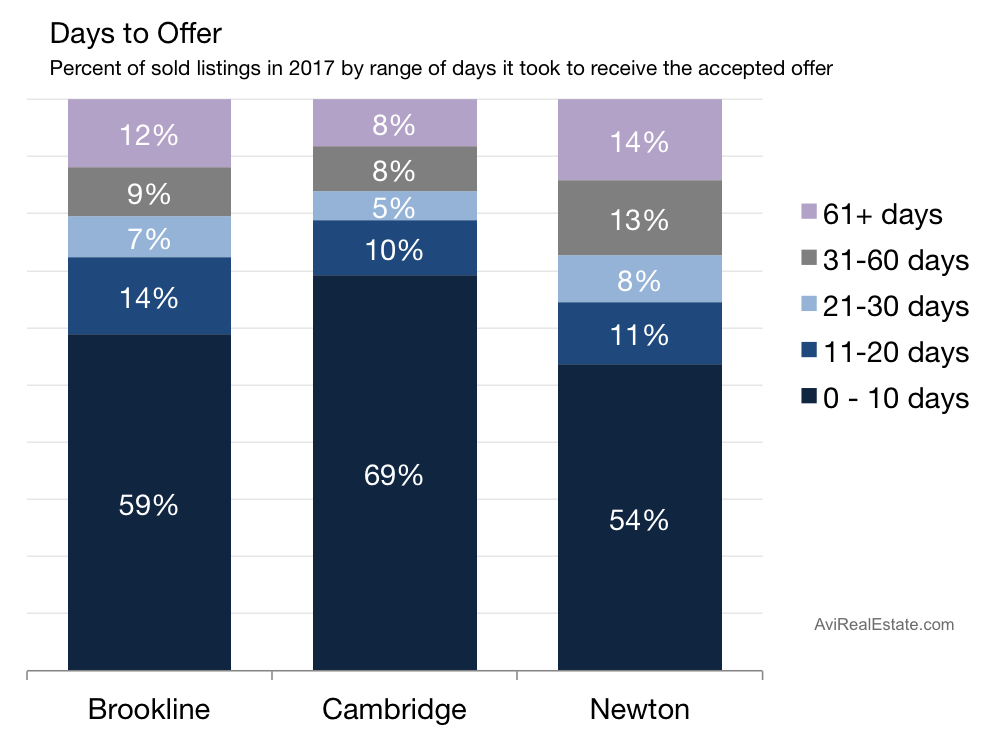 As you would expect, the more expensive the property, the longer it took to sell.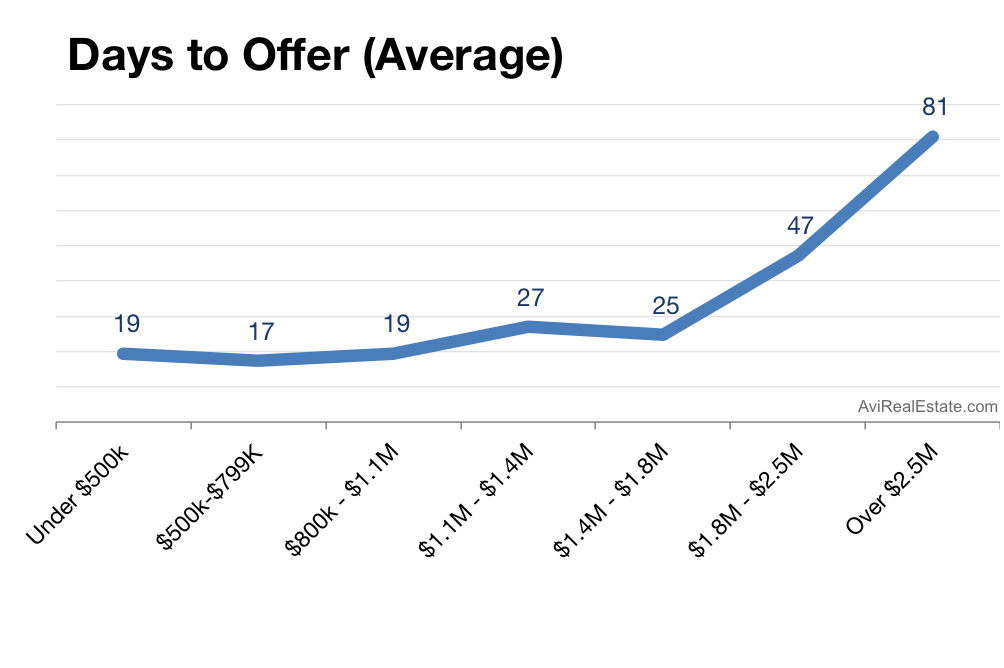 3. Price range - what you should expect to pay
A number of factors contribute to the market value of any particular property. For many buyers, though, the number of bedrooms is the one with which to start their search. At a high level, what should you expect to pay?
Here are the graphs showing the number of properties sold, by number of bedrooms and price range. Other factors, such as square footage, property condition, the specific location and neighborhood, parking, and amenities help determine where a specific property would fall within these ranges. Overall, Cambridge and Brookline follow the same pattern, while in Newton you can get more bedrooms for the buck.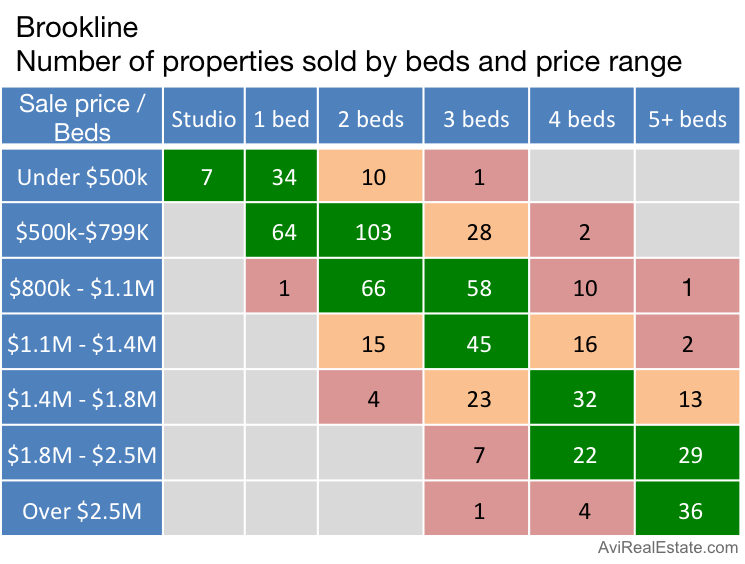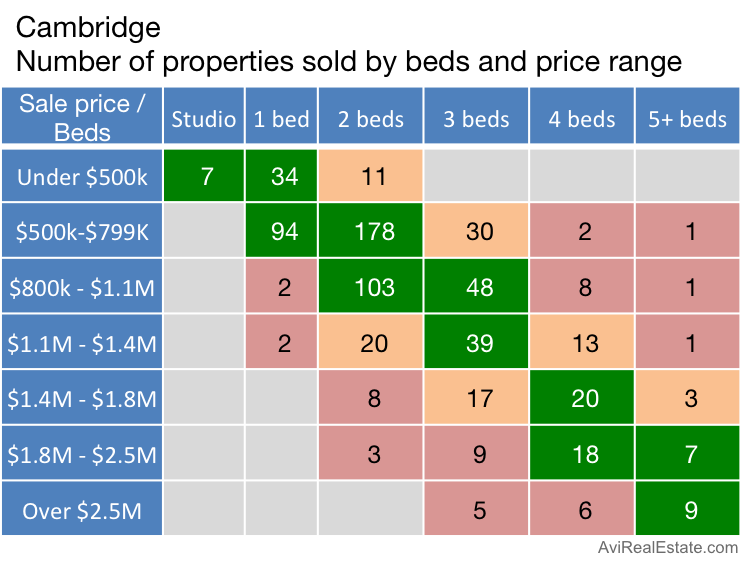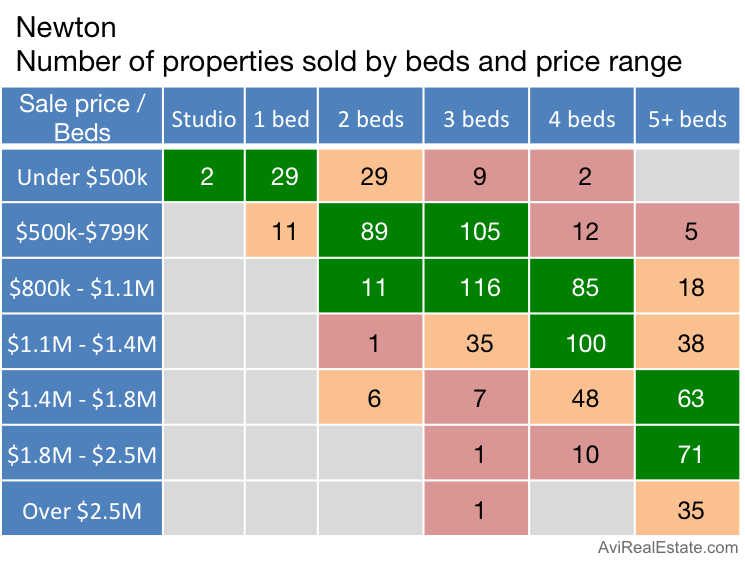 Conclusion
There are many takeaways from this. One should be: if you are considering buying or selling a home in 2018, now is the best time to start planning. Please give me a call, text, or email and I'll be happy to advise you on what preparation you should be doing now.
Instrument panel photo by Mitchel Boot on Unsplash
Liked this post? Please share:

---
Questions? Email me and let's set up a time to discuss your real estate needs.
AVI KAUFMAN is a top broker who lives in Brookline, Massachusetts and works there and surrounding communities, assisting buyers and sellers of residential property. He is building a unique practice dedicated to serving the best interest of his clients - see how he's different.
---
Check out these other posts