Get new posts by email. About once every month or so. Unsubscribe anytime.
Not another "our response" email. What's actually happening in Real Estate?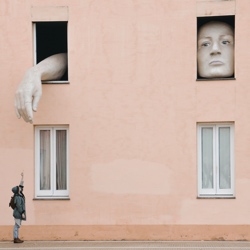 I'm sure the last thing you need is another "Our response to Covid-19" email ;-)  But you may be wondering what's going on in the real estate market. I'll provide some general updates below and, as always, I'm happy to discuss your specific situation in detail with you.
First, remember that headlines lack nuance. For example, Boston.com reported yesterday that "The pandemic didn't stop home prices from rising in Mass." That may be true… but they cited data from March and the typical home purchase takes 6 to 12 weeks from offer acceptance to closing. The homes that closed in March went under agreement in January and February. Also, even in early March the market was still in full swing and, if anything, was extra active, with buyers anticipating a future closure.
Instead of focusing on sale prices, a naturally lagging indicator, I would suggest to watch these leading indicators:
1. Buyers are sitting out - but heads are starting to poke up again. Anecdotally, I can tell you that's true, and the data bears it out. As a proxy, we can look at showings requested through the service ShowingTime, a national company that many agents use to handle scheduling. Here are charts showing weekly showings for 2020 compared to 2019.
If buyers were just as active as normal for the spring, then we'd expect the showing activity to match last year's trajectory, or actually to exceed it since private showings are the only option now that open houses are cancelled. But in fact, there was a sharp decline and showings this week are approximately 25% lower than at this time last year.
However, people still need homes, and we can see showings starting to claw back up from rock bottom. I would anticipate that when things open up fully, whenever that may be, we'll see an unprecedented flood of showing requests.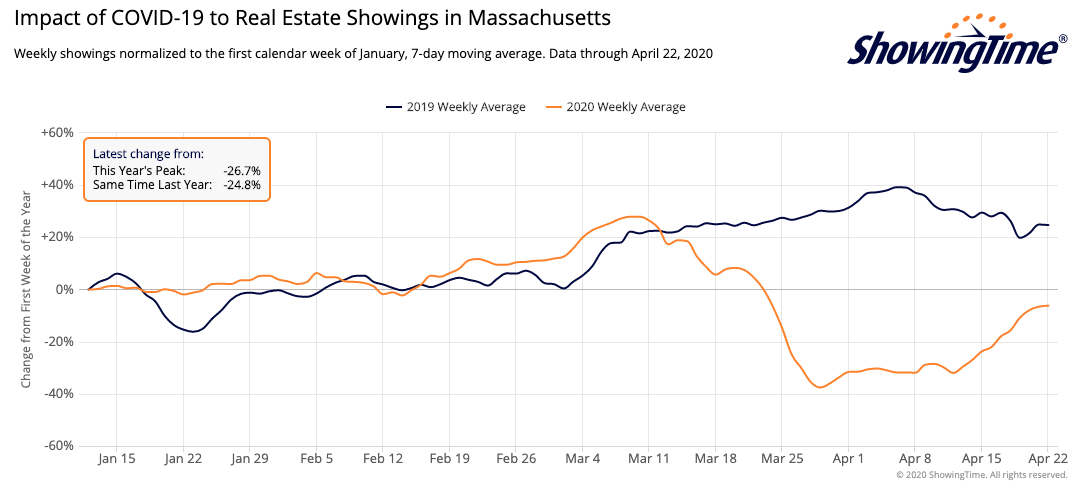 2. Sellers on the sidelines. Normally, spring is when we see a flood of new listings because people want to leave time to get situated before the school year. This year, many sellers are postponing their sales, either because they don't want strangers coming through their homes or because they are afraid there aren't enough buyers out there.
The number of new listings is lower than at this time last year. For the period March 24 through April 22nd:
| 3/24 - 4/22 | 2019 | 2020 |
| --- | --- | --- |
| North Brookline | 93 | 36 (-61%) |
| Newton | 158 | 62   (-61%) |
| Boston | 887 | 418  (-53%) |
| Massachusetts | 10,927 | 5418 (-50%) |
3.  But homes are selling quickly! Between March 24th and April 22nd, 30 sellers accepted offers. In the same period last year 75 sellers accepted offers. Although fewer properties have been sold, they are selling at roughly the same speed, a median of 8 days.
| North Brookline 3/24 - 4/22 | 2019 | 2020 |
| --- | --- | --- |
| # sellers accepted an offer | 75 | 30 |
| Average days to offer | 18 | 25 |
| Median days to offer | 8 | 8 |
It's worth noting that the reduction number is right on track with the 61% reduction in listings. In other words, even though there are fewer buyers and fewer sellers, the market may have maintained its balance.
Looking just at the subset of properties listed since March 24th, of the 36 in North Brookline, 13 sellers (36%) have already accepted an offer! Although the absolute number is lower, as a percentage it's not so far off from last year when 37 (40%) of the 93 properties listed in this time period had sold by this date.
4.   And prices are … up, down, and sideways. Anecdotally, sellers do seem less aggressive when setting their asking prices. For the places that don't sell immediately, will sellers be quicker to reduce their asking price, or to entertain lower offers? Signs point to yes but we'll have to keep monitoring.
Another factor is that many lenders are tightening their lending standards in response to the economic conditions. For example, Chase now requires a minimum 700 FICO score and a 20% down payment from most borrowers.
In this environment, sellers may start to prioritize certainty of execution over sale price. For example, for a recent condo sale in Coolidge Corner, the seller received over a dozen offers, some significantly over the asking price. Instead of picking the highest price offer, the seller selected an offer that was only moderately over ask but was all cash and with limited contingencies.
What's it all mean?
Now more than ever, each situation is unique, and you need a good plan to meet your goals. I'm still working and have been successfully helping my clients reach their goals. If you are considering buying, or listing for sale or rent, please call me today so that we can strategize for your success.
Footnotes
Boston Mayor Walsh advised cancellation of open houses starting March 20th.
Massachusetts Governor Baker closed non-essential businesses starting March 24th
ShowingTime normalized the data on their chart to the first calendar week of January, which is limits its information because it varies from year to year. However, I think the conclusion is still directionally correct.
Chase now requires a 700 FICO score and 20% down payment to buy a home
Photo by Lava Lavanda on Unsplash
Liked this post? Please share:

---
Questions? Email me and let's set up a time to discuss your real estate needs.
AVI KAUFMAN is a top broker who lives in Brookline, Massachusetts and works there and surrounding communities, assisting buyers and sellers of residential property. He is building a unique practice dedicated to serving the best interest of his clients - see how he's different.
---
Check out these other posts