Get new posts by email. About once every month or so. Unsubscribe anytime.
What's happening in Brookline real estate now?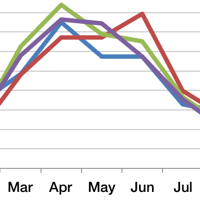 As it does every year, the pace of new listings is trailing off as we approach Thanksgiving. What's different is that the number of homes still for sale is significantly higher than at this time last year.
Currently in Brookline 148 condos are for sale, versus 58 this time last year. This high number is resulting from the one-two punch of more being listed (641 condos listed for sale this year versus 576 last year), and the lower number getting sold (387 accepted offers so far this year, versus 454 last year).
The high inventory, low interest rates, and the approaching winter months may make a unique and rare opportunity for buyers to have some leverage.
Liked this post? Please share:

---
Questions? Email me and let's set up a time to discuss your real estate needs.
AVI KAUFMAN is a top broker who lives in Brookline, Massachusetts and works there and surrounding communities, assisting buyers and sellers of residential property. He is building a unique practice dedicated to serving the best interest of his clients - see how he's different.
---
Check out these other posts